Degree requirements Undergraduate Catalog
The curriculum for the Biological Sciences major includes the following components:
REQUIRED COURSES IN RELATED FIELDS
MATH 214-0, MATH 218-3, MATH 220-2, or MATH 224-0, plus a course in statistics
CHEM 132-0 or CHEM 152-0 or CHEM 172-0
CHEM 212-2, or CHEM 215-2 or CHEM 217-2
PHYSICS 130-1,2 (or PHYSICS 135-1,2, or PHYSICS 125-1,2)
REQUIRED LIFE SCIENCES COURSES 
BIOL_SCI 201, BIOL_SCI 202, BIOL_SCI 203, & BIOL_SCI 301
BIOL_SCI 232, BIOL_SCI 233, & BIOL_SCI 234
Three 300 level concentration courses
Two additional 300 level BIOL_SCI courses (not including BIOL_SCI 398 or 399 registrations)*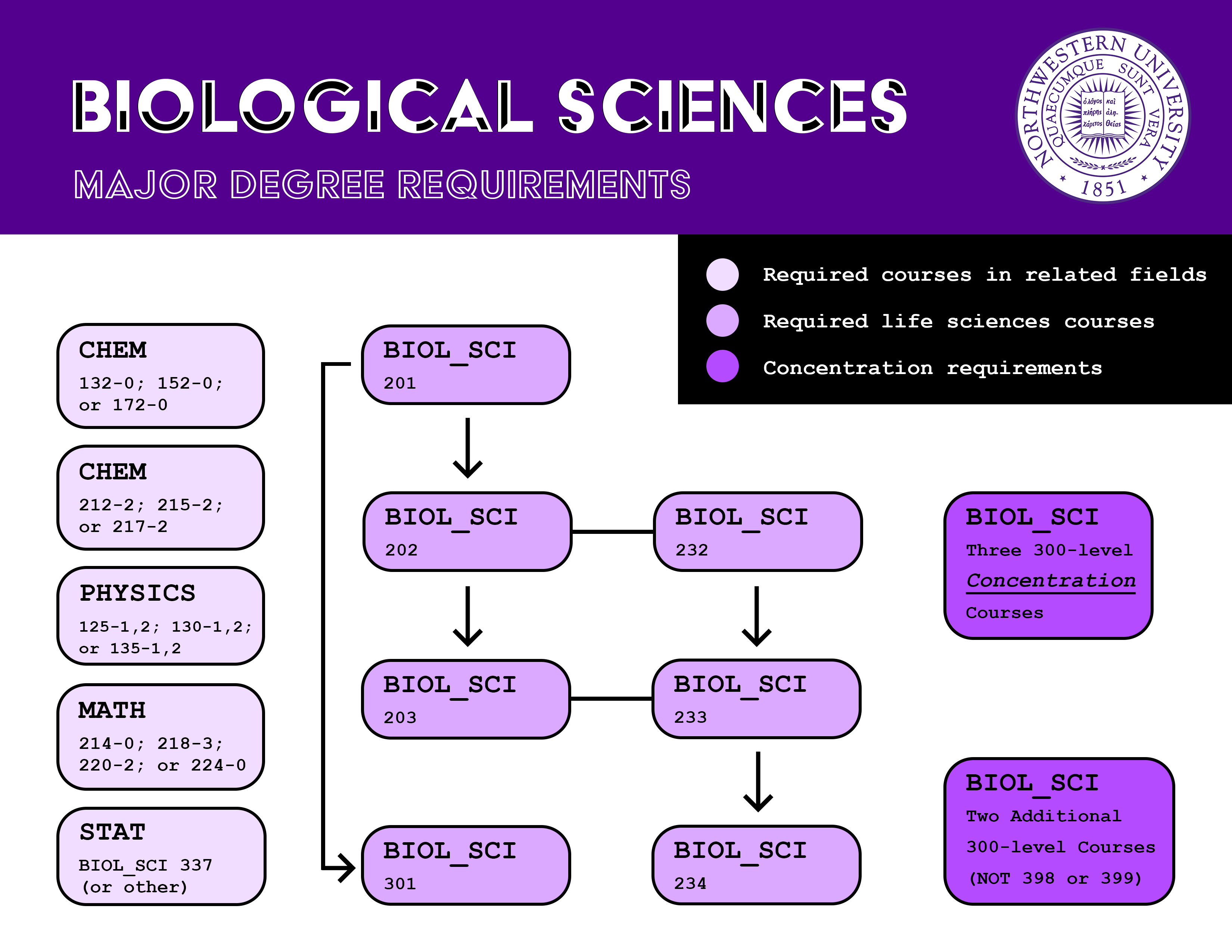 CHECKLISTS FOR DEGREE REQUIREMENTS
Below are some checklists to assist you with planning your courses. These checklists do not take the place of your major advisor, but they are intended to assist you in preparing to meet with an advisor, keeping track of your degree progress, and planning future terms. Please use the individual concentration checklists for concentration requirements. 
2023-24 Degree Requirements Checklist
CHECKLISTS FOR 2022-23 CONCENTRATION REQUIREMENTS
2023-24 Biochemistry & Biophysics Concentration Checklist
2023-24 Cell & Developmental Biology Concentration Checklist
2023-24 Computation and Systems Biology Concentration Checklist
2023-24 Ecology, Evolution, & Conservation Biology Concentration Checklist
2023-24 Human Health & Disease Concentration Checklist
2023-24 Molecular Genetics & Genomics Concentration Checklist